www.coolsticklax.com
by Bob Regan
(Glen Ellyn, IL USA)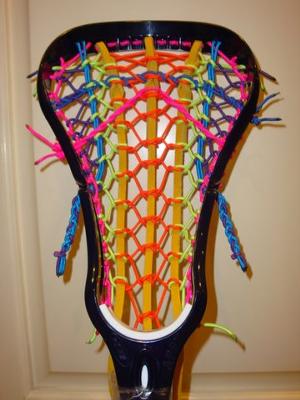 Girls Rainbow Pocket
For the guys we do traditional stringing with 4 leathers. Traditional stringing has more versatility as you can adjust each leather individually to effect your whip and hold. Basically you dial in your personal taste into the pocket by adjusting the leathers. Colors see the web site for all the colors.


For the Ladies we can do a 2, 3 , or 4 leather pocket preset to maximum legal depth. The 2 & 3 leather pockets are our most popular. Our sticks come to you game ready. They take very little time to break in and will only get better with more time and play! A huge advantage over the store purchased sticks which can take months to break in.
Join in and write your own page! It's easy to do. How? Simply click here to return to Custom Lacrosse Sticks.