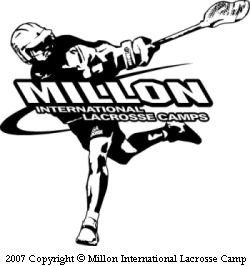 a word from
Millon Lacrosse Camps
In 14 years the Millon Lacrosse Camps have developed into the country's top lacrosse camps drawing players from 35 different states and nations as far away as Australia, Japan and England.
The respect that we have earned is attributed to several things - our commitment pledge, top of the line facilities, and world class staff.
The Millon commitment pledge is a guarantee that each camper will have a positive learning experience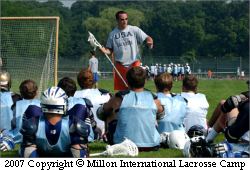 . I also guarantee that each camper will improve his skills and better understand the game by the end of the camp week.
The facilities selected are superior to any of those in their region. Each facility includes manicured lacrosse fields and matchless, state-of-the-art accommodations. All of our locations are easily reached by all means of transportation.
When we discuss our staff at Millon International Lacrosse Camp, it is with great pride. We choose the best college coaches, collegiate All Americans, and All World players based on their ability to teach and relate to the campers of all ages. Their expertise and experience mean that campers learn and practice up-to-date techniques in a competitive but supportive environment. We know this can make all the difference in the success of a camper's experience. Be a part of the Millon International Lacrosse camp tradition, and take your game to the next level.
Go To: The Millon International Lacrosse Camps Home Page
---
added Value
When you stop by the Millon Lacrosse Camps Website make sure you check out their very nice give away's that you get when you attend a Millon Camp.
---
the Staff
Please check with Millon Lacrosse Camps directly for a list of the staff that will attend your camp, but past staff has included such superstars as:
Kyle Dixon, Matt Danowski, Jack Reid, Max Seibald,
Bill McGlone, Brett Moyer and Ben Rubeor
Mark Millon attends all camps
*Note - SimplyLacrosse.com does our best to verify the facts on this page prior to publishing the information you find here. However all information is subject to change at the discretion of Millon International Lacrosse Camps without notice to SimplyLacrosse.com or it's readers. Please make sure to verify directly with the camp for official details. This is for informational purposes only, and is provided as a courtesy of SimplyLacrosse.com
---