BlueGrass Bats win 3rd Lax-n-ati Tournament
by Commisioner Gorden
(Gotham city)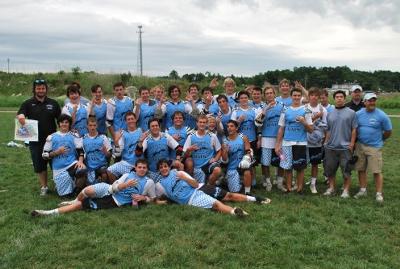 Lax-n-ati Bat team
In an exciting and surprising turn of events, the BlueGrass Bats won their 3rd in a row Lax-n-ati tournament defeating the undefeated Cincinnati Elite in the Championship game. The Bats have won this event the last two years and it looked like it would take a miracle to make it three. After taking solid leads against all opponents except the Elite, the Bats would find it difficult to hold the win even against over matched opponents. After taking a 4 goal lead against Lax-n-ati rival Ohio Velocity, they opened the door in the last 5 minutes to let them tie the game. After going through the list of tie-breaking criteria, the Bats outlasted Velocity before the coin flip. Solidly taking charge against the elite team from Ohio, the BlueGrass Bats never looked back. In a hard fought duel, the Bats were able to win most face offs and play a full game to clinch the win. The Bats qualify for the Dick's National Championship in Tampa this New Years Eve.
Join in and write your own page! It's easy to do. How?
Simply click here to return to Lacrosse Press Releases.