MANOS AMIGAS, LACROSSE GUATEMALA
by rodrigo pascual
(Guatemala)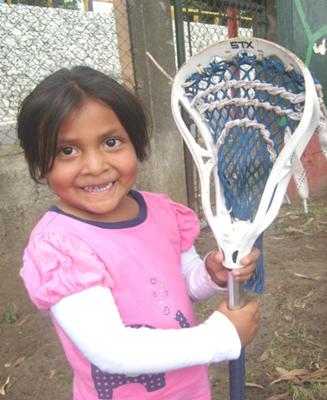 MANOS AMIGAS LACROSSE GUATEMALA
DEPORTE Y RECREACION UN CAMBIO PARA TU VIDA.

LACROSSE GUATEMALA
Lacrosse Guatemala began four years ago in order to promote physical and recreational activity in children and youth in Urban and Rural areas of Guatemala, and also support the academic development. Thus contribute to the formation of children and youth living high-risk areas and rural communities where the children and youth are living in difficult situations such as drug problems, violence, prostitution, youth gangs Integration and other problems that prevent the young develop in a society where the youth marginalized and have the opportunities to express and function through sport.

With the help and the support of friends in the USA, we started to open the first Lacrosse Clinic in Guatemala located next to the dump in Zone 3, with the Association from Safe Passage. The first team was built in Guatemala and more teams are formed in Escuintla Palin, Livingston, Quetzaltenango, Coban, Ciudad Quetzal, Peronia, including men and women, today we have over 350 young people across Guatemala practicing this fantastic sport.

Today we will thank the support of several friends in the U.S. All young people who are practicing Lacrosse have their own organization that promotes sport and recreation in Guatemala. All young people who are in the project are poor.

We hope that in the year 2011 we will have more people, schools, colleges and companies that we can continue to support the work to the change the life of many children and young people from Guatemala living in difficult conditions and without opportunities for development.



ACTIVITIES 'MANOS AMIGAS LACROSSE 2010

LACROSSE CLINICS COBAN A.V.



On 3 August a group of young people accompanied by: Rodrigo, Stuart and Jose began a long journey Carcha Community asia about 4 hours from the capital city with Lacrosse sticks, goals, helmets and balls, all with a single Lacrosse purpose by promoting the recreation and thus able to bring a time of wholesome entertainment by Lacrosse for children and young people who live in communities far away from the capital and started to work with about 25 children and 30 girls, the main idea was to select a group boys and girls to participate in the second International Festival of Lacrosse 2010.


Sesimaj Lacrosse: a team dreams

In Sesimaj, a community which is located 6 hours from the capital of Guatemala, started the lacrosse sports and recreation program a year ago, with the intention to further promote this wonderful sport in all rural areas of Guatemala, the team consists of 25 boys
and 25 girls.
Sesimaj had its first participation in the second international festival of lacrosse in March this year.
One of the biggest dreams of this team is to teach lacrosse in all rural communities of Coban and to play Lacrosse with different teams, currently members of both teams practice Lacrosse after school and one of the requirements to play Lacrosse is that they have to go to school.
SECOND MEETING OF THE YOUTH LACROSS-PLAYERS CIUDAD QUETZAL 2010
In September we held the second meeting of young Lacross-Players with the participation of: Maya lacrosse, Safe Passage, Ciudad Quetzal and Peroni.
This event brought together over 150 young people from all areas (red areas in Guatemala), all gathered with one purpose and one end, to play sports, practice what we like most: playing Lacrosse.
This event was organized by the Young Quetzal Lacrosse Team, Ciudad Quetzal, preparing this event for twenty days, and it was an excellent work that these guys made.
All together in this great lacrosse event, all boys and girls from the red zones in Guatemala met together for one thing:
SAY YES TO LIFE, IF THE SPORT NO TO VIOLENCE.
DO SPORTS, PLAY LACROSSE
RODRIGO PASCUAL DIRECTOR MANOS AMIGAS CORDINATOR LACROSSE GUATEMALA
Hi friends, it is a pleasure to greet you, I take this moment to thank you all for the support and confidence you have given me during this time, thanks for believing and trusting in me and the hundreds of young people who are currently practicing lacrosse.
We are young, we seek the solution to our problems through sport and recreation and so people can be multiple changes to our country, thank you for believing in us in overcoming the young. It is not easy for us to excel in a country where violence prevails and where young people spend their daily time on bad things, but the organization MANOSAMIGAS is working to polled young people, which can change through sport in different communities in Guatemala, however we are aware that there is a lot of work to do and this will be possible only through the efforts of everyone.
I take this opportunity to greet and thank our long term friends. We started working in Guatemala lacrosse sport and today continue to support the development of lacrosse in Guatemala
The organization MANOS AMIGOS contributes the sports program for these children and young people who have the opportunity to play sports and can continue with their studies which can be useful for the development of their communities.
manos.amigas@hotmail.com
mayalacrosse@hotmail.com
www.ama-guatemala.org